Oct 31, 2016, Shanghai – The Chinese Automotive Industry in 2016, a comprehensive guide to the world's top vehicle market, was officially launched today.
The yearbook represents a four-party cooperation between Chinese automotive researcher CEDARS, two prestigious business schools CEIBS and IESE‍ as well as global leading consulting firm Roland Berger. The authors also received assistance from the CAAA, an influential auto industry association in China.
It is the third edition of what has become an eagerly anticipated yearbook regarding China's finished vehicle and parts sectors. This edition also takes a look at emerging market trends such as the electric car and e-mobility.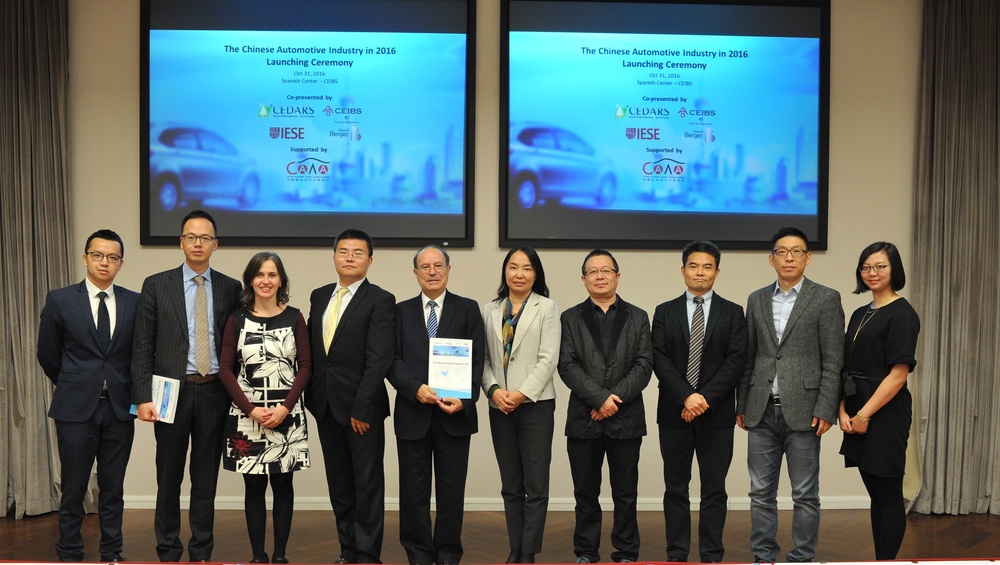 Book launch ceremony. From left: Neil Wu (Senior Consultant of Roland Berger), Ron Zheng (Principal of Roland Berger), Cristina Castillo (Research Associate at Port of Barcelona Chair of Logisticsat CEIBS), Junyi Zhang (Senior Advisor of Roland Berger & Partner of NextEV New Energy Industry Development Fund), Prof. Jaume Ribera (Port of Barcelona Chair of Logistics at CEIBS), Li Na (Secretary General of CAAA), Howard Li (Director of CAAA), Clark Cheng (Managing Director of Cedars), Yong Pang (Director of CAAA), Cora Wang (Marketing Advisor at Roland Berger).