May 26, 2016-Cedars has passed the annual audit of ISO 9001 quality management system certification by SGS for Year 2015 and successfully upgraded from ISO 9001:2008 to ISO 9001:2015.
Geneva based SGS is the world's leading certification company and recognized as the global benchmark for quality and integrity.
The objectives of this audit:
To determine conformity of the management system, or parts of it with audit criteria.
Audit of scope of certification:
Provision of consulting service for automobile industry;

Provision of trade agency services for automotive vehicles;

Provision of export trading services for auto parts, including purchasing, inspection, warehousing and packing.
Conclusion of Audit:
The audit team concludes that the organization has established and maintained its management system in line withthe requirements of the standard and demonstrated the ability of the system to systematically achieve agreed requirements for products or services within the scope and the organization's policy and objectives.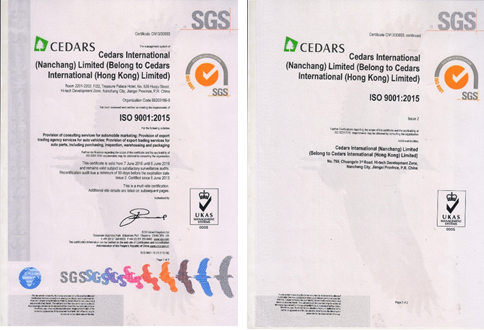 You can enter "CN13/30693" into SGS website to check the effectiveness:
http://www.sgs.com/en/Our-Company/Certified-Client-Directories/Certified-Client-Directories.aspx